Last week I discovered the Picture Collection at the New York Public Library. The Picture Collection is a 106-year-old resource, open to the public. It's a straightforward idea — visual images, cut from magazines, catalogues, and books, pasted on backings and organized in folders by some of the best librarians in the world.
Apparently, it's been here and available to us for over a 100 years. There's an online version these days too, but this is something I want to get my hands on. And anyway, online Search (like Google) doesn't provide anything like the experience I'm looking for. That I often forget is the one I'm looking for…
"The feeling of fortuitous gratitude at coming across unexpected information is something most of us who've done any research, have experienced — that kismet of finding the perfect book, one spine away from the one that was sought. In the field of art and image research, this sparking of transmission, of sequence and connection, happens on a subconscious level…." — Leanne Shapton, In Defense of Browsing
And that's where I'd like to picnic, right there, where the sparking happens. The connections you make, that the world makes with you, continuing on the non-verbal communication theme of last week's I feel blue picnic, and the general guiding principle of we're not solving things here, let's do some browsing inside out together.
I should get a little more concrete about the picnic plan post-fieldtrip, when I send out the discussion prompts. Maybe. Just come. Let's spark.
---
If this is your kind of thing, or you'd like it to be, sign up to receive invitations to UNDERMININGnormal living room picnics.
---
UNDERMININGnormal is where deep-thinking, change-seeking women can find community, care and unhurried space for conversations we don't usually get to have.
Also, some more info is available here —
For a proper welcome to UNDERMININGnormal…
To skip to what is a living room picnic…
---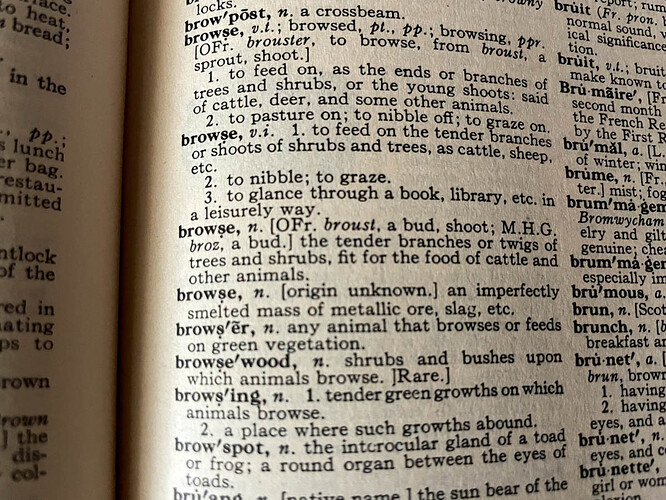 Webster's New Universal Unabridged Dictionary p.233